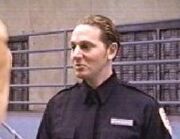 Anthony Nowakowski
is a Polish correctional officer at Oz. He is portrayed by Matthew Brandon Ross.
He starts out as a replacement and works in Emerald City, Diane Wittlesey shows him the ropes and he asks her if they have any celebs and she tells him that there is Jackson Vahue, Kareem Said and Eugene Dobbins.
He is later held hostage in the riot and then he gets killed by the S.O.R.T team along with Officer Hunt and some prisoners.
Ad blocker interference detected!
Wikia is a free-to-use site that makes money from advertising. We have a modified experience for viewers using ad blockers

Wikia is not accessible if you've made further modifications. Remove the custom ad blocker rule(s) and the page will load as expected.