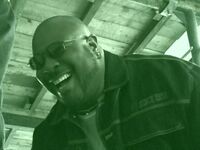 Gray Daniels was the brother of inmate Carlton "Tug" Daniels.
Character Summary
Edit
He was seen in Supreme Allah's crime flashback. Daniels laughs at Supreme when he loses to him at a game of corner dice, and as a result, Supreme shoots him to death and takes back his money left from the game.
He was also seen gambling in a card game along with jiggy walker in his flashback
Plot Summary
Edit
Gray's brother, Tug, attempts to avenge him in the latter half of Season 4. Tug tries to kill Supreme using a shiv hidden under a table, but he fails and Supreme lives.
Sometime later, ironically, Tug joins forces with Supreme in an attempt to overthrow then-leader of the Homeboys, Burr Redding. This plan backfires however and Tug is murdered by Redding himself.
Ad blocker interference detected!
Wikia is a free-to-use site that makes money from advertising. We have a modified experience for viewers using ad blockers

Wikia is not accessible if you've made further modifications. Remove the custom ad blocker rule(s) and the page will load as expected.