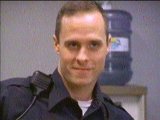 Rick Heim
is a correctional officer and S.O.R.T team member on HBO series Oz played by Paul Schulz
Character summary
Edit
Hateful of the inmates within Oz, he appears first in the aftermath of the Season 1 riot where it is discovered that his gun was used by someone to kill inmate Scott Ross. After being interrogated by Alvah Case, Case determines that Heim is lying to protect a fellow CO. It is then determined that Diane Wittlesey used Heim's gun but Warden Glynn urges Case to cover up the murder charge. No charges are filed but when Tim McManus states that inmate Vernon Schillinger witnessed Ross being killed, Heim immediately informs Wittlesey that Schillinger is threatening the staff. From there, Heim no longer appears.
Ad blocker interference detected!
Wikia is a free-to-use site that makes money from advertising. We have a modified experience for viewers using ad blockers

Wikia is not accessible if you've made further modifications. Remove the custom ad blocker rule(s) and the page will load as expected.