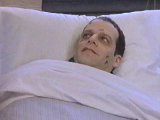 Robbie Gerth is a prisoner in the AIDS hospital ward dying of full blown AIDS. Simon Adebisi is taking care of him during the 3rd season. Gerth asks Adebisi a question concerning his sexual behavior and whether he was protected. Adebisi extracts blood out of Gerth's arm and uses it to infect Antonio Nappa. Gerth even tells Adebisi that he knows that he has infected someone with his blood. Adebisi dismisses him and considers him delirious. He may have died sometime in the 3rd season although it is never mentioned and he is never seen again. He is portrayed by actor Patrick Breen.
Ad blocker interference detected!
Wikia is a free-to-use site that makes money from advertising. We have a modified experience for viewers using ad blockers

Wikia is not accessible if you've made further modifications. Remove the custom ad blocker rule(s) and the page will load as expected.