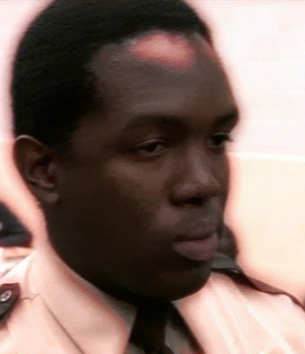 Samuel Hughes
was best friends with
Leo Glynn.
They were both supervising the cafeteria at Oz in 1982 when a fight broke out. Leo goes and sorts it out but when Samuel comes over to assist, he is fatally stabbed by an unknown inmate.

Samuel's son Clayton Hughes applies for work at Oz 17 years later after his father's death. Leo is not 100% sure about hiring Clayton considering the personal stake he has in what he witnessed so many years before. Sensing Glynn's doubts about him working at Oz, the same prison his father was killed at, Clayton says "if you don't hire me another prison will".
Clayton works reception the next week Clayton works as a C.O dealing with other prisoners, but then Leo says no because he cares about Clayton, then he replies to Leo "If you don't let me work in a Unit to deal with the other prisoners I will will work in another prison where they will let me deal with the other prisoners" then Leo hires him to work in Emerald City, which is not known by Samuel as he died in 1982 and Em City was built in 1997, when Clayton is working in Em City he is mixed up with the Latinos especially Carlo Ricardo and stun guns Raoul Hernandez.
Clayton only wants to work in Oz to seek revenge for his father's death, so he goes to Bob Rebadow, to find out who killed his faher. Bob says he can't remember who killed Samuel since there have been many deaths in Oz, but as William Giles is in hospital Father Ray Mukada visits with him, he asks Giles who killed Samuel Hughes, Giles then tells him it was Leo Glynn.
Clayton is later incarcerated on August 2000 for shooting James Devlin and smuggling a gun into Simon Adebisi's pod in Lardner State Correctional Facility. A year later and back in Oz, he is killed by Greg Penders. 2 years later Leo Glynn joins Samuel and Clayton when he is killed by Lionel Kelsch.
Ad blocker interference detected!
Wikia is a free-to-use site that makes money from advertising. We have a modified experience for viewers using ad blockers

Wikia is not accessible if you've made further modifications. Remove the custom ad blocker rule(s) and the page will load as expected.