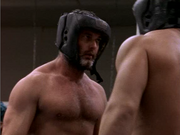 Steven "Throttlin' Steve" Pasquin is a Biker inmate featured in Oz. Portrayed by John Perretti.
Plot Summary
Edit
During the Boxing Tournaments in Season 3, Pasquin is chosen as the representative for the Bikers. Pasquin is featured in the first match of the tournament fighting against the Italians' representative Chucky Pancamo. After touching gloves, the fight begins, Pasquin gets into fighting stance, and is about to strike, but is struck once in the face by Pancamo and is immediately floored. The referee goes to check on Pasquin and it is evident that Pasquin is unconscious. The match ends and Pasquin is dragged away, and is not seen again.
Ad blocker interference detected!
Wikia is a free-to-use site that makes money from advertising. We have a modified experience for viewers using ad blockers

Wikia is not accessible if you've made further modifications. Remove the custom ad blocker rule(s) and the page will load as expected.