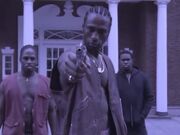 The Jefferson Keane Crew was a street-level drug crew. It was lead by none other than, Jefferson Keane, Jefferson's brother, Billie, served as underboss. Not much is known about the gang other than they sold drugs and were very ruthless. In Jefferson's crime flashback, their ruthless-ness is on full display, as they hit a newly-wed couple for ripping off their drug package. The size of the gang isn't known, but they were big enough to have multiple drug packages on the street at once, and controlled many corners. Their turf in the city isn't known, as Oz never mentions which state it takes place in. The gang most likely fell apart after the imprisonment of the Keane Brothers, but this is only speculation, and the gang could still be active.
List of Members in The Jefferson Keane Crew
Edit
Jefferson Keane - Founder and Leader. Lead the gang up until his joint imprisonment with his brother, Billie.
Billie Keane - Underboss. Co-Lead the gang with Jefferson until his imprisonment in '97. Charged with accessory to murder.
Franklin - Possibly Enforcer. As seen in Keane's crime flashback, Franklin was present when Keane hit the Honeymoon Couple for ripping off Keane's drug package. He was also charged with accessory to murder like Keane's brother, Billie.
Murders committed by The Jefferson Keane Crew
Edit
The Honeymoon Couple: Both shot to death by leader, Jefferson Keane, while Billie Keane and another member watched.