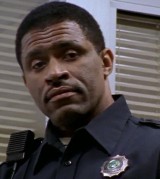 Travis Smith
is one of the correctional officer on the HBO drama Oz, played by
Jerome Preston Bates

Smith first appears as the Head CO of Emerald City under the management of Martin Querns. Querns and Smith both work together with inmate Simon Adebisi to build a virtually all-Black correctional staff and prisoner population in Em City. He shared the Head CO of Emerald City with other CO Adrian Johnson. After Querns is fired, Smith is named the Head CO of the Isolation unit, the unit he watches over throughout the duration of the show.
Ad blocker interference detected!
Wikia is a free-to-use site that makes money from advertising. We have a modified experience for viewers using ad blockers

Wikia is not accessible if you've made further modifications. Remove the custom ad blocker rule(s) and the page will load as expected.