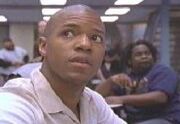 Vincent is a young African-American Christian inmate played by Vincent D'Abouze.
Character summary
Edit
Vincent is mostly a background character. He was known as one of Simon Adebisi's "prags" or sex slaves during Seasons 2, 3 and Season 4 Part I. He was also seen with The Christians and Rev. Jeremiah Cloutier.
Plot summary
Edit
The Homeboys leader Simon Adebisi was Vincent's initial sponsor when he arrived in Emerald City. Vincent was forced to be Adebisi's sex slave until Adebisi was sent to the psychiatric unit. Vincent then joins the Christians.
Seen with the Christians when the inmates are watching "Miss Sally's Schoolyard" on Em City's community television. He takes part with Christian leader William Cudney when they guard the TV and tell the inmates that they should not watch the show because they have impure reasons for viewing (mainly to admire Miss Sally's body).
Season 4 Part I
Edit
When Adebisi instigates a race war and all the white Christians are transferred out of Em City, Vincent stays and Adebisi targets him for sexual exploitation, making him his "prag", forcing him to wear womens' clothes and makeup, and dance in a sexual manner for the entertainment of the Homeboys. Adebisi's sexual exploits, including the exploitation of Vincent, is one of the things that cause others, mainly Kareem Said, Poet, and Tim McManus to develop problems with Adebisi's growing control over Em City and scheme to undercut this control, leading to Martin Querns being fired as Em City's unit manager.
Season 4 Part II
Edit
Usually seen with Reverend Jeremiah Cloutier in the background when Cloutier becomes the Christians' leader.
Throughout this season, a background character with the Christians.
Ad blocker interference detected!
Wikia is a free-to-use site that makes money from advertising. We have a modified experience for viewers using ad blockers

Wikia is not accessible if you've made further modifications. Remove the custom ad blocker rule(s) and the page will load as expected.