Whitney Munson
First appearance
"Straight Life" (episode 1.05)
Last appearance
"Straight Life" (episode 1.05)
Reason/Cause
End of Storyline
Details
Prisoner No.
45M242
Aliases
None
Gender
Male
Age
83
Date of Conviction
March 2, 1945
Affiliations
The Others
Spouse
None
Relatives
None
Kill Count
1
Episode Count
1 Episode
Portrayed by
Richard Hamilton
Whitney Munson
was an inmate featured in
Oz
. Portrayed by Richard Hamilton.
Character Summary
Edit
Prisoner #45M242. Convicted March 2, 1945 - Murder in the first degree, criminal possession of a controlled substance. Sentence: 110 years, up for parole in 60.
One of the oldest inmates in Oswald, having spent 52 years of his 110 year sentence. He was convicted for strangling his prostitute to death and having possession of opium.
Plot Summary
Edit
Season 1
Edit
He is seen in Sister Pete's drug rehabilitation program where he explained his crime to the other inmates in the program. According to Munson, he has been clean for 5 years, 3 months, and 6 days but has quit seven times over his 52 year time span in Oz. He was decorated with the Purple Heart for valor and claims to have become addicted to opium during his service in Asia.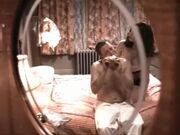 When asked by Hill as to why he murdered his prostitute, Munson states that he wasn't thinking, was overcome by a delirious lust, and believed that he was acting out of affection. He is only 8 years away from his parole date - his parole date being in 2005. It can be assumed that if Munson stayed out of trouble and was still alive, that he was paroled and released from Oz in 2005.
Kill Count
Edit
Personal
Unnamed Prostitute: Strangled her to death during a drug-induced delirium. (1945)
Richard Hamilton died in 2004. Which means that if Munson is still alive, that he outlived his own actor.
Ad blocker interference detected!
Wikia is a free-to-use site that makes money from advertising. We have a modified experience for viewers using ad blockers

Wikia is not accessible if you've made further modifications. Remove the custom ad blocker rule(s) and the page will load as expected.